Smart Instrumentation Solutions
The problem
A common challenge in modern high capacity digital telecommunications is the reliable synchronization of all components used along the path of a communication line. With the increased popularity of SONET and SDH networks, synchronization signal stability becomes essential to attaining high performance. Since a signal degrades over distance due to a variety of factors, and can lose synchronization due to component aging, signal testing across the path of the primary reference sources (PRS) is often necessary.
Probus solution
Probus develops customized solutions for reference signal stability evaluation. These tools take phase measurements from synchronization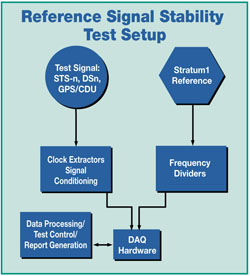 signals over a 2- to 48-hour interval, which are then processed to assess jitter and wander effects, embedded frequency components, and the cumulative effect of errors. Stability assessments are made by producing ANSI-standardized TIE, MTIE, and TDEV reports, which are compared against preset standards to evaluate signal performance and Stratum level.
The data acquisition (DAQ) solution compares both the test and reference Stratum-1 signals and records their phase difference. Finally, a computer processes the data and produces the TIE, MTIE, and TDEV reports, including comparisons to the corresponding ANSI/IT masks.
Test system components are implemented as shelf mounted, portable units, or as remote test nodes accessible through TCP/IP or X.25 networks, based on each customer's unique needs.
Smarter results with Probus
Probus has the ingenuity and flexibility to create customized solutions for instrumentation and industrial control applications.
Explore our solutions:
Technical Consulting
System Analysis
Training
Enhancements to Existing Components with Smart Software Solutions
Complete Instrumentations

Contact Probus today at 732-758-8024
to discuss your programming needs